WaM Architecture is delighted to announce that Bourne Court in Ruislip has been granted planning permission.
The site is approximately 0.7 HA. It is located at the North west end of the Bourne Court, a cul de sac accessed from Station Approach in South Ruislip within a few minutes walk of South Ruislip Station. The application proposes 109 apartments in 2 blocks and is following of previous approval. The previous approved plans present a wholly appropriate and suitable redevelopment of this highly sustainable site.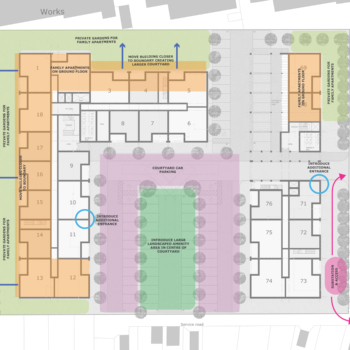 We suggest a different approach can offer the same appropriate and suitable solution which can not only offer a better aspect for surrounding residential occupiers but also a better environment for future occupiers.
We approached this revised scheme on the premise that we had a free brief to consider the site on its merits. We took account of what had gone before but rather than seeking to amend or modify the original scheme we instead started from a blank sheet of paper considering the site's opportunities and constraints and propose a site arrangement which best responded to these particular factors.
It was our view that rather than creating an extension to the current alignment of the cul-de-sac of Bourne Court it would be more successful to create a destination; a focal point. On this basis we aligned one of the blocks perpendicular to the road and by utilising an archway created a sense of both destination and entrance.
To the south of the site the properties on Canfield Drive have gardens and their primary outlook is north towards the site. We felt it appropriate to both maximise the benefit of the sun path by creating an "n" shaped courtyard of development who open side faced south. In this way the courtyard would benefit from a considerable amount of daylight and the newly created façades, which faced these properties, would be reduced to a minimum and be only flanking.
We were keen to present the maximum possible sized courtyard to house both car-parking, a turning head and landscaping in front of the proposed new apartments. This again would present a green outlook to those properties to the south.
We developed a unit design which meant each and every unit would benefit from an integrated over sized balcony to provide high quality private amenity space.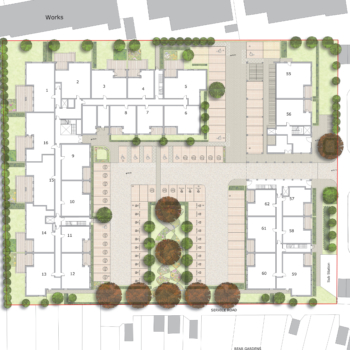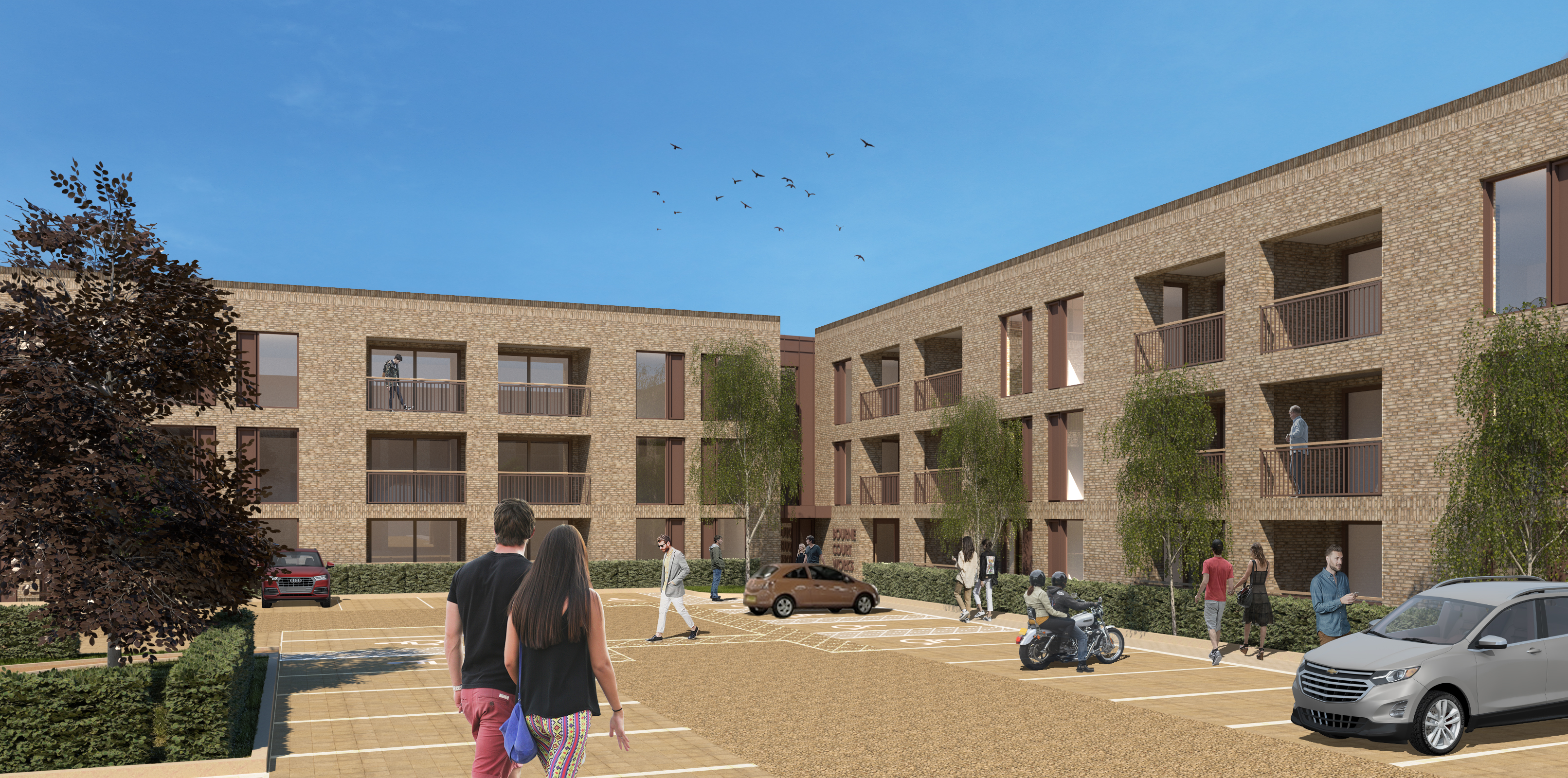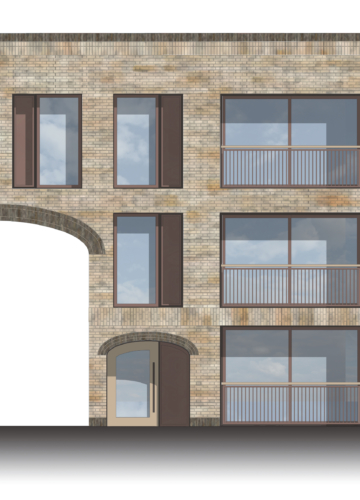 Our concept for the revised scheme takes its inspiration from old factory and works architecture. We propose a monochromatic and simple but beautifully detailed building in predominantly brick with deep window reveals to offer articulation through light and shade. The large openings contain a window module with an opaque panel and large full height window. A contracting darker brick is used to form the arches on Block B to create the entrance. The same darker brick caps a feature parapet detail.
The main brick is used to form a deep band course of 2.5 bricks in Flemish bond which caps the ground floor which is deliberately taller than the upper levels to form a pleasing entasis which ensures the proportions are correct.
The deep inset balconies have balustrade with a timber handrail and simple, clean bronze coloured vertical fine metal spindles. This is again set back slightly from the facade.
The building will be rigorously set out to brick dimensions to ensure the punched facade is regular and considered.